On this last trip to WDW we did something that we have never done before, we went to Tom Sawyer Island. This is probably the only part of the Magic Kingdom that we have not seen. On our third day we had breakfast reservations for Crystal Palace at 8:00. Since the park opened at 9:00 we decided that this would be the day to go to Tom Sawyer's Island(TSI). Everything that morning worked out well. We got to the entrance to the dock of the raft that would take us to TSI at around 9:15 and
discovered something else we did not know about TSI, it opens at 10:00. No problem though as Big Thunder Mountain and Splash Mountain were open. We rode both twice and came back around to the raft dock a little after ten. We waited a couple of minutes and then began to load the raft. This raft is about 30 feet long by about 20 feet wide. There are a couple of crates and supplies that are stored on deck for show.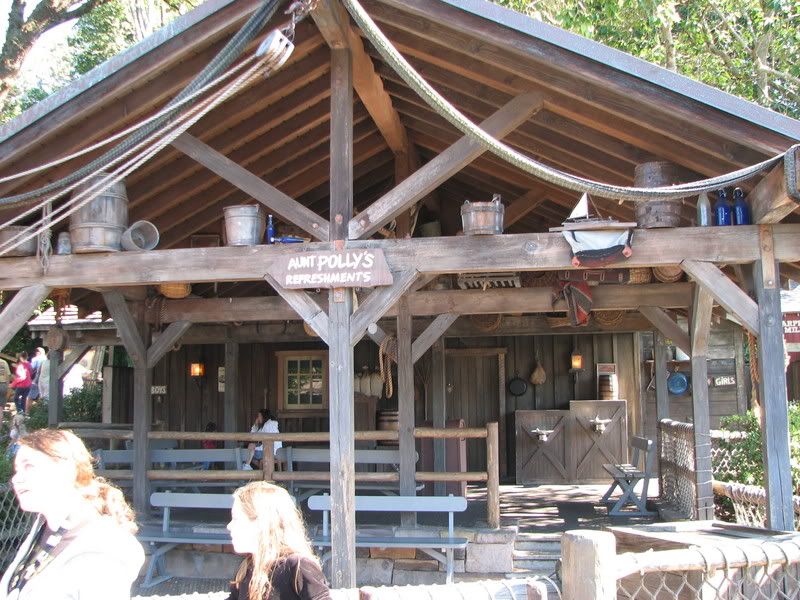 Afterall, this is a raft found on the Mississippi. With all the items on deck it's like a maze as to where you can stand for the ride over. The raft is powered by an inboard motor and steered with a big branch looking rudder. It only takes a couple minutes to cross the river and then we are there. At the dock are a small refreshment stand and some benches. From here there are a couple of paths that move out in different directions. We went left and slightly up first and came to the entrance of Injun Joe's cave. Very dark and narrow until you come out to the treasure room. This room has a pile of lit up treasure, jewels and gold separated
by a small guard-rail to keep you away. Here we found a surprise. One of Tom Sawyer's white-wash brushes. I had read about this before going. The Cast Member's(CM) at the beginning of the day hide 5 to 7 of these paint brushes all over the island. If you find one of these, you can turn it into a CM and get a family Fastpath for either Big Thunder Mountain Railroad or Splash Mountain. More about this in a little while as we needed to wait to get back to the dock on the other side of the river to get it. After finding our way out of Injun Joe's cave we moved our way up toward the windmill and further onto the island. As we kept walking we could see other parts of the park from the island. We did not know that there was a dock on the far side of BTMR. There was another raft docked there. We saw this better when we took the train around the park later on in our trip.
After a couple minutes of walking we came to Fort Langhorn. It is amazing how thick the vegetation on the island is. We did not see the Fort until we got close to this. Also, as an aside, we found out where the Fort got it's name from a couple of days later. Does the name Samuel Clemens ring a bell, well his full name is Samuel Langhorn Clemens. The Fort is amazing. A true western fort as you have been taught to remember. Four corner turrets and the walls that combine them. We went up into the palisade and went into the turrets and there were guns mounted ready to defend. Another pleasant surprise, when you pulled the trigger, they made an authentic firing sound. They were electric, but still cool. Before we left this level we actually found another paint brush. As we already had ours, we gave the brush to a boy that was near by and told him what to do with it. The floor of the fort had a couple of buildings including a storage shed, a stable, complete with men
and animals and a stockade with a prisoner sleeping it off. There was even a doorway that led to the basement of the fort and an escape tunnel to get out in case of an attack gone bad. As we wandered back toward the dock, we continue past it and went around the island on the other side. This is where Aunt Polly's snack stand, but it was closed. Past Aunt Polly's is the barrel bridge. Just like it sounds a bridge mounted on barrels. Pretty fun. As we were crossing it I heard the howl of a wolf and looked around and there was the Haunted Mansion and on the edge of the river was a sign naming the bend in the river as Howling Wolf Bend. Another aside. A couple of nights later we were walking on the grounds of our hotel which is across the lake from the Magic Kingdom. I coulda swore I heard the wolf howl again. A couple of seconds later my son confirmed it by asking if I heard the wolf howling. After this we hiked across the middle of the island and back over to the dock and got a ride over to the main dock.
The CM asked us to follow her around the side of the dock and she then filled out and gave us the Family FastPass. Very Cool. The down side was the guy on the line of BTMR did not let us keep it. We asked him to cross off the side where it mentioned us riding, but he would hear none of it and he kept it. Oh, well. Tom Sawyer island was a very cool experience that had been there for as long as I had been going to the parks and we have never been there. It makes me wonder how many other places are waiting for us to explore. Make the time and check out the island when you can. It took us only about 2 hours. If you have any experiences from TSI, add a comment and let me hear about it.