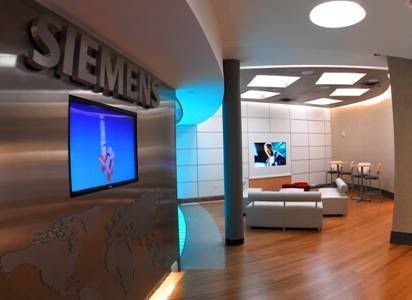 Base21 is the Siemens run meeting area, banquet facility and employee relaxation station located beneath Epcot's Spaceship Earth. It was opened this past summer and we could not wait to visit it on our last trip. To start the visit process out, I logged on to the Base21 web site before we left from work. Through the web site I was able to schedule my visit. I then received an email back with a pin number needed to enter Base21. Flash ahead a month and with this pin packed we made our way over to Base2
1 on our third day in the parks. The entrance to Base 21 is on the right side of SE as you walk into the park. As you pass where the stand-by line maze was, the entrance is on your left. It actually shares one of the main entrances to the SE Post show. As soon as we walked in the door we turned left instead of continuing into the post-show and we went through a door into a small room. There was a small computer screen and a key-pad set into the center of the wall and a locked door
to the right. I entered our pin and I guess it was correct in that the door opened up to a small entryway with a Elevator and a stairway inside. We took the elevator up and were greeted as we got off by the receptionist who asked us to sign in. As I was signing in, we were all looking around. This was a very cool area. There was an information kiosk with a lot of Siemens technology on display. There was a video screen and an announcement boards listing park events for that day. We were then greeted by Jim, one of the Siemens reps. He filled
us in on all that Base21 can do. He then showed us a Computer datapad that had a floor plan of Base21 on the screen. He touched a color and then the floor in our area, after a couple of seconds turned to tha
t color. He was demonstrating the quick wireless communication with the Datapad and the mainframe that runs Base21 and Spaceship Earth. The kids loved this and for the next 10 minutes changed the floor in the visitor center all colors of the rainbow. This area also had coffee and soft drinks available. The only part of the visit that was a bust is that when you are finished you are led through a VIP doorway to get onto Spaceship Earth with no line. As the ride was down for re-habbing, we did not get to do this. After a drink or two and some inside information about the changes that were to occur in Spaceship Earth, we said goodbye to Jim and made our way downstairs to the Post-show exhibit. It is a room kind of like the Innoventions rooms that had a huge rotating Earth
Globe in the center of it.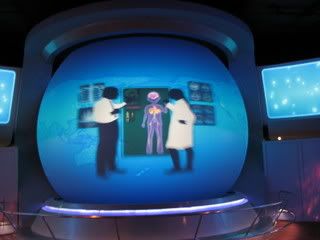 Around this were some demo games. This first was a driving game that demonstrated the different kinds of driving technology that Siemens is developing. From radar windshields to see through fog and laser wipers to cut through ice to a driving system that would take over for you in case your car goes out of control. The second was a 3D Medical procedure device. With the help of the 3D glasses and some computer control handles, you would put together virtual parts of the virtual human anatomy as they passed by on a conveyor belt. All very cool. There are rumors of a third attraction for in here also we did not see it, but I have read a couple posts that talk about it being a city management program.
Base21 was a fun visit and we will be sure to stop by again next time we go.