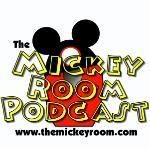 The Mickey Room podcast is a podcast from Texas with Wayne and Kimberly as it's hosts. Each week this couple brings us a look at their experiences from inside the parks and out. They have various segments each week such as Park Tips, Jokes, and restaurant reviews. They also run a lot of contests. There is usually a picture contest running each week on their
Web Site
and a Podcast contest every so often.
The charm of this podcast is it is like sitting down with your neighbors for about 45 minutes of Disney talk each week. For having such a small show, Wayne and Kimberly talk about a lot of topics such as the parks, the hotels, collecting, food and sometimes music. They tell you about the Disney properties from the eyes of a couple with a young boy. And, as a bonus, they go to Disneyland as well as WDW. They are part of the
Disney Podcast Network
as are many podcasts. They usually put out a 45-60 minute show each Sunday. So if you like a slice of down home Apple pie with your Disney podcast, download
The Mickey Room podcast
. Or is that a Monte Carlo sandwich? Either way, enjoy.