About five years ago I approached you and a number of my friends in the Disney community looking for information about Walt Disney and the Miniature Stoves he would make.
My post from 2009, The Disney Stoveworks
I had a Eureka moment the other night while I was looking for information on Granny's Farm, the miniature house that Walt put together way back when. The current interview I am working on for Walt's People, Harper Goff, talks a lot about this period in the company. While looking for more information on this I came across the Stove information I have been searching for. In an article about Walt's fascination with Miniatures, a couple of paragraphs were written especially for me:
Walt painstakingly crafted a pint-sized potbellied stove for the caboose as well. "I had a pattern made up, and it turned out so cute with the grate, shaker and door, and all the little working parts, I became intrigued with the idea," Walt wrote. "I had a few made up: one was bronze, another black, and I even made a gold one! Then we made more and started painting them in motifs that fitted the period at the turn of the century."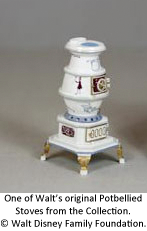 Each of these 5 1/2" inch tall stoves had a different design, and eventually about one hundred were made. Walt gave some to friends, and even sent some to an antique gift shop in New York where, to Walt's delight, Mrs. Thorne herself purchased two to add to her renowned collection, the same collection that had inspired Walt's hobby. They sold for $25 each and Walt made no special effort to market them or make a profit. He was just curious to see if there was any interest and by 1957, the supply was depleted.
"It has been fun making them and others appreciate them, too, so all in all, I feel well repaid," said Walt.
After reading this I am left with two thoughts. The first is satisfaction in being able to confirm what Richard Todd said in that interview I transcribed in 2008. I really love all aspects of the history of things. I get the big warm and fuzzy when you can match up information through different sources. So I was bummed to have only Mr. Todd mention this in a passing question in an interview and no other mention of it in all of my searches. Of course this fell off my active radar, but the passive picked it up and question, resolved.
The second thought is, okay, he made about 100 of these stoves. Why have I or anyone I talked to in 2009-2010 never heard of this? I would think the value on one of these would be a little bit more than $25. I'm thinking more like $2,500. I'll have to put this search back into the active mode for a little while and see what else might be out there. FYI, I just checked EBay and no luck.